Let's Turn your vision into a reality
With hundreds of projects under our belt, we have the resources and experience to take your project from start to finish!
We Offer Full Construction Packages Of Every Type
We can take care of every aspect of your project from engineering to construction and everything in between! 
Feeling overwhelmed? We have the expertise and experience to limit any confusion or stress you might be experiencing as you start your big project!
Our unique flexibility means faster lead times for your project. Unlike other firms, we have in house engineering, design, fabrication and construction teams which allows for more control over the project timeline leading to faster projects and happy clients!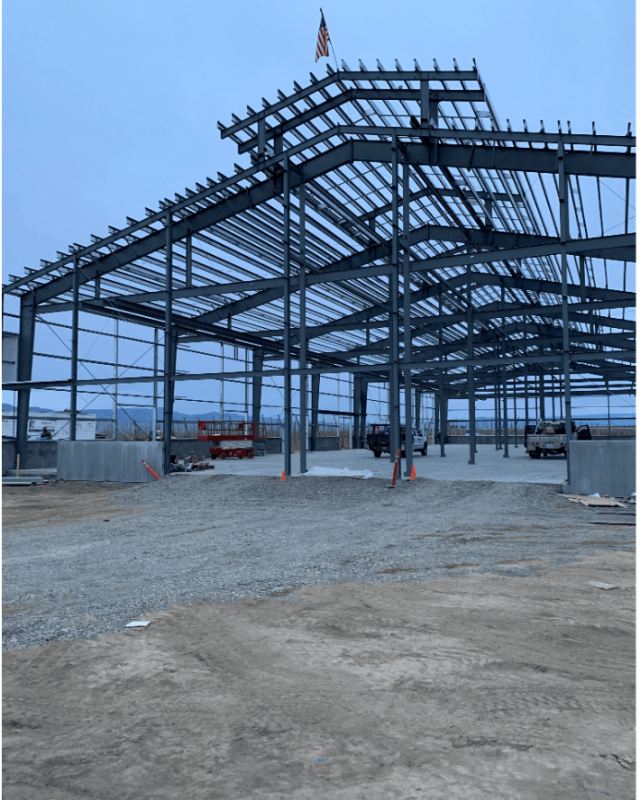 Get Your Project Underway Up To 2-3 Times Faster Than You can Anywhere Else!
Take the first step to making your dream project a reality by filling out the quote request form online or calling us at 509-882-4680.
Once we receive your quote request, we'll look things over and schedule a meeting to nail down all the details of your project.
After the project scope is complete, we will put together a comprehensive project proposal for you to review with us.
Once the project is fully approved, we can begin work on your scheduled start date! We keep our lead times as fast as possible!
"Over the past five years we have had Columbia River Steel & Construction erect several steel buildings at our wine facility in Mattawa. We have always been satisfied with the workmanship and timeliness.
They also constructed our Tasting Room facility at the Vintners Village in Prosser. We have always had great comments from people who have visited the facility as to the design and construction. We would not hesitate to use the services of CRSC for our future building needs and would highly recommend them for any building construction you may need."
-Butch Milbrandt, Co-Owner, Milbrandt Vineyards
"I like to hire local companies. CRSC has a good reputation, they are a very good contractor and I would recommend them."
-John Helgeson, Partner, Helgeson Excavating & Construction
The Columbia River Steel & Construction Difference
Our ability to control all aspects of your project in-house is one of our greatest strengths and a huge advantage for our clients. If a change needs to be made along the way, we will be as adaptable as possible to help. While other companies will charge hefty fees for each and every change order request regardless of where you stand in the project timeline, we look for every possible solution to save you money while keeping the project on pace.
We understand how excited you are to get your project off to a fast start! From permit writing to fabrication itself, we have some of the fastest lead times in the industry. While every project is unique, our highly skilled engineering, design, fabrication, and construction teams are equipped to handle any challenge that may arise in getting your project off the ground. We have dealt with jurisdictions, agencies, and contractors across the board and can effectively navigate each phase of your project. 
Communication is paramount to keeping your project on time and on budget. We've built an incredible trust with our clients by always being fair, transparent, and honest in everything we do. Throughout your project, we will keep the lines of communication open so that you can feel confident every step of the way. We are proactive in keeping you updated on project progression and look forward to answering any questions that may come up along the way.
Frequently Asked Questions
What is my building going to cost? What is the square foot price?
The cost will vary greatly depending on several factors. The type of finish requested, the size of your building, and the project scope will all affect the final cost.
How long will everything take?
Typically, once the contract is signed, permit drawings will be available inside of a few weeks. The permitting process will depend on the local jurisdiction. The time for construction depends on the size and scope of work being done.
What's more cost effective, steel or wood?
Both steel and wood have their advantages but when you are looking for longer clear spans, steel buildings start to make more sense.
Do I need to have a location set before we can start the process?
We are always available for a consultation. However, due to the varying permitting requirements based on local jurisdictions, we will need the actual location to begin any estimating or planning.
What will you need from me to start the planning phase?
To get an accurate estimate, we will need the width, length, eave height, location, and scope of work.
Yes! We can help you with remodels, additions, extensions, and insurance work.